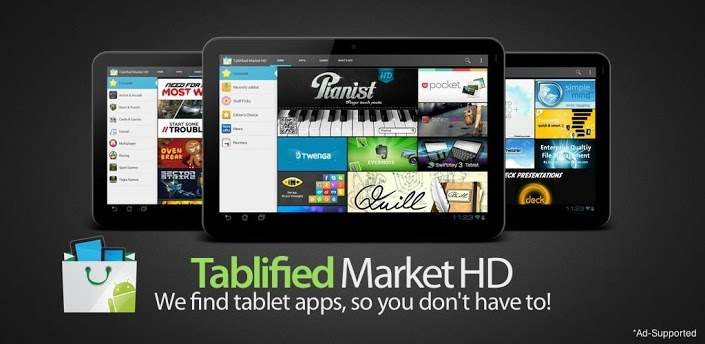 Google Play is a fantastic app store, but let's face it… it's a mess at times. There are many apps out there that put together collections or lists of other apps, and the Tablified Market does that for tablets. Anyone who owns a tab knows it can be a hassle to find the good stuff, so we're going to take a quick look at Tablified to see if it's worthy of all the hype.

The Tablified Market is an Android App that's like a little App store unto itself.
When you first fire up the app you'll get a screen similar to what you see above, and from there you can navigate to find the perfect app or game for your tablet. Across the top you've got tabs for apps, games, and a "What's Hot" section; each section has its own sub-categories which is where things get interesting. You'll get the usual market categories, but you'll also get some news ones like Root Apps, Floating Apps, Multiplayer Games, and Student Essentials.
The layout of the actual app or game pages is a bit different, but its clean look and we liked the fact the permissions are front and center. It's a nice touch as you always want to check the permissions these days with all the malware floating around.
If you find something you want to download (you will) you'll get a pop-up that takes you to the Play Store via browser or app depending on your preference.
An app that curates other apps is no good if the ones it chooses are of poor quality. The folks at Tablified have done a great job of putting a lot of awesome apps under one roof, but there are quite a few new games and apps that aren't present and should be. Not a deal breaker, but surprising as there are a lot of high-end tablet games that haven't made it in to the app yet. Most of the usual suspects are present, their "new stuff" seems a bit dated though.
Verdict
The Tablified Market is a slick app that may help you find games & apps for your tablet that you might not have found otherwise. It works well as a companion to Google Play and is easy to navigate, but there are a few glaring issues including incredibly slow loading times. The app recently received an update to speed things up, but I had several categories that were still very slow to load.
There is free/limited version of the app, and there's a pro version that supposedly gives you faster loading times, no ads, and a slew of other features for $3.99. The price is a little too steep for what you're getting considering you shouldn't have to pay for "faster load times" or category filtering.
The Tablified Market is a good way to find apps that will work on your tab, but there are better solutions out there to be honest.
Rating: 6/10 taps
Cost: FREE
Available from: Google Play